Are You Ready for Some Football?
Okay, I love summer! And, yes, it's kind of sad when it comes to an end. But, hey the end of summer means the start of football season! After a few months without it, I'm so ready! So, bring it on!
I live in Green Bay. The home of the Green Bay Packers! We eat, sleep and breathe football here! Believe it or not, one of my son, Riley's very first words was Packers. Seriously! I was driving around town running errands. Riley, was buckled in his car seat. We passed by the Lambeau Field and Riley pointed at the stadium, and said, "Packers!" It's true! I don't think he was even a year old yet.
You see football isn't just a game in this town! It's part of life. On Sundays during football season the uniform in this town is green and gold! Everybody wears it! As you can see, even, our dog, Arlo!
If the game's on Sunday, I make sure all my laundry is done and the house is cleaned on Saturday! We go to church on Saturday night or early Sunday so we don't miss kickoff. Trust me, we are not alone! If you're not going to the game, you are definitely watching it! You're either having a game day party at your house or you're going to someone else's house for one. That's just the way it is. I am lucky enough to go to a few games a year. Here I am with my nephew Carter and his fiancé Baily at a game. What fun!

But, most Sundays I'm watching at home in my sweats and Packers sweatshirt. Gotta be comfy! Now that doesn't mean I don't go all out. I'm always cooking up a special game day spread. In fact, even before the game is over I'm already thinking about next weekend's game plan.
We love our brats here in Wisconsin! I'm not originally from here but I've been here more than 20 years. Yep, I'm a cheesehead! And, I love it! The grills fire up early on game day! It's never too early for a brat if you make them my way, in my Brat Tub with beer, sauerkraut, onions and butter. YUM! My recipes rocks because you don't have to be "manning" or in my case "womanning" the grill the whole time. LOVE THAT! Because let me tell you, there's nothing worse than being in the kitchen and you miss the best play of the game. HATE THAT!
I also like to get as much as I can done ahead of time. Get those dips and desserts done! My Football Cheeseball is always a hit! You can make it and refrigerate it a few days before you game day party. Makes a great centerpiece for my buffet too!
I always like to serve a big beautiful tray of fresh colorful veggies with a delicious dip. My homemade Bleu Cheese Dip and Dill Dip are two of my favorites! And, they can be made 2 days ahead.
Or, I make my Lemon Garlic Hummus and spoon it into jars. Then I stick in fresh veggies, green and gold veggies of course, but you can use whatever. Everybody gets their own dip. Go ahead double dip all you want! How cool is that?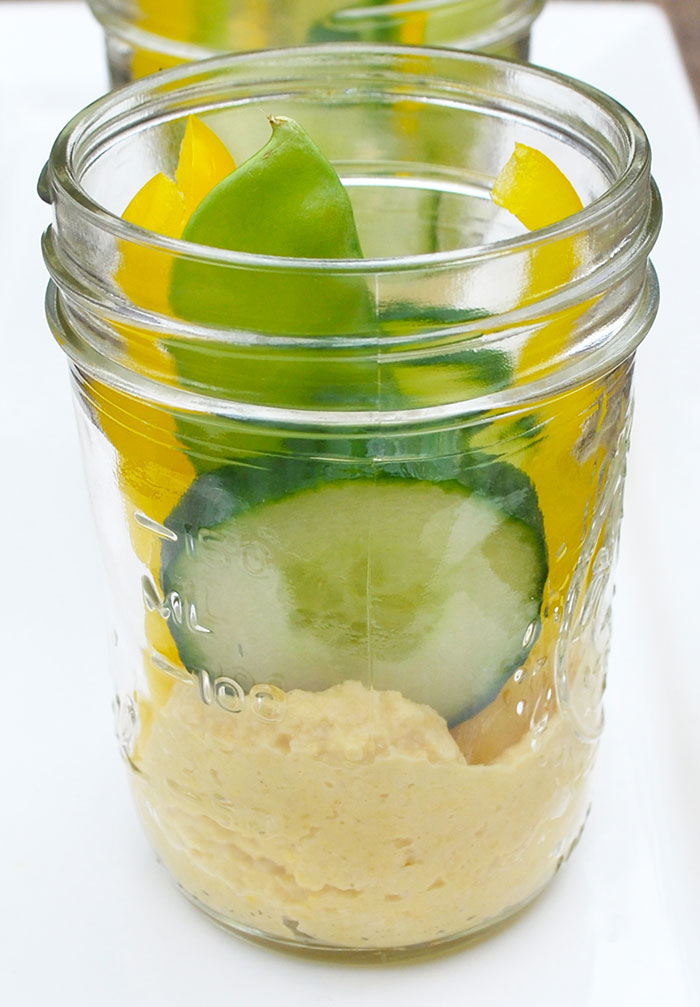 When it's cold out, which is pretty common here in Green Bay (LOL), I like to serve some warm dips. My Baked Spinach and Artichoke Dip is one of my favorites! I make the dip a few days before them game and then stuff it in a bread bowl and bake it right before kickoff. It's the best!
My slow cooker is also my secret weapon on game day. I can make my Sloppy Joes for a Crowd, or hot Italian Beef or Slow Cooker Apple Bourbon Pulled Pork Sandwiches a few days before and then just warm them up in my crockpot before the game. I just set out some buns or crusty rolls and then everybody can help themselves when they're hungry.
Same goes for my Quick Ranch Chili and Brat Chili and my all time favorite Cheese and Sausage Chowder. It's the ULTIMATE game day comfort food! You just gotta try it!
For dessert, I keep it simple. Use a boxed cake mix to make my Football Brownies. So Cute!
Here's hoping for a great football season! Hope your team does great, unless they are playing against my Packers! Just kidding! Well, kind of! I hope you cook up some great game day memories! I'm always posting new, fun recipes so check back soon! And, if you have any great game day recipes, I'm always looking so, please share! By the way, who are you rooting for? Any Super Bowl predictions?