If you don't have a slow cooker, you need to get one! I mean like today! If you do have a slow cooker and it's harvest gold or avocado green and from the 1970's, it may be time for a new one! LOL! The heating elements can burn out over time. Or, they just don't work like they should.
Okay…time to share some of my slow cooking secrets and tips!
First of all, I love to use a slow cooker liner. They rock! You'll find them right at your regular grocery store in the aisle with the foil and plastic wrap. No scrubbing the pot after dinner. Clean up is a breeze! Don't have a liner? At least spray your slow cooker well with cooking spray.
If you have the time to brown your meat in a skillet with a little oil before putting it in your slow cooker it can really boost the flavor! No time to do that? I get it. Sometimes there just isn't enough time in the day. Just make sure to season whatever you're cooking really well.
Also, it's important to have a great braising liquid. Don't just use water. Think beer, wine, juices, stock, and cream soups. You want your dish to have great flavor!
Cheaper cuts of meat like beef chuck and rump roasts, and pork butt roasts are meant for the slow cooker. They need to be cooked low and slow so that they get tender and wonderful.
If you're putting veggies like potatoes, carrots, and celery in with that roast, I like to wait until the last hour or two of cooking to add them. That way they won't overcook.
When it comes to cooking chicken in the slow cooker, I use boneless chicken breasts rather than bone-in chicken. I don't want to hassle with picking out the bones at the end of the night. I bet you don't either. Chicken breasts cook much quicker than a beef or pork roast. They need just 4 to 5 hours on low. So, keep that in mind if you're going to be gone longer than that. You can throw frozen chicken breasts in your slow cooker. They will take a little longer to cook than the thawed, about 6 hours.
Got leftovers? If your slow cooker has a removable stoneware liner, you can refrigerate that liner with its cover. Just make sure it cools down a bit before putting it in the fridge.
Keep a Lid on It! Resist the urge to take off the lid and peek at your meal. Opening the slow cooker lets heat escape and slows cooking. Only open it 30 to 45 minutes before the low end of the cooking range to check doneness.
So, what are some of my favorite slow cooker recipes? I have so many! Honey Lime Chicken is a HUGE hit in our house! Perfect for a healthy version of Taco Tuesday or any night of the week when you want keep dinner easy and healthy too!
I'm a sandwich girl! Nothing tastes better then a warm, messy delicious sandwich at the end of a long day. My Hot Beef Sandwiches are crazy good and crazy easy too! Same goes for my Slow Cooker Apple Bourbon Pulled Pork, Slow Cooker BBQ Chicken, French Dips, and Hot Italian Beef Sandwiches. Get out the napkins because these bad boys are messy!
Click Sandwiches for more messy, delicious sandwich recipes.
I can get a little fancy in my slow cooker too! My Heavenly Chicken served over angel hair pasta is totally company worthy!
Same goes for one of my all-time favorites my Just Leave it Beef and Wine. This recipe is near and dear to my heart. It was passed down to me from my grandmother. Just dump your cubed chuck roast, 3 cans of cream soups, dry onion soup mix and lots of dry red wine and like the recipe says, leave it!
She served it with mushrooms over butter egg noodles. With a salad to start, bread, and a nice dessert it was always a hit at her dinner parties. Mine too! Click Always a Hit at My Dinner Parties to read more.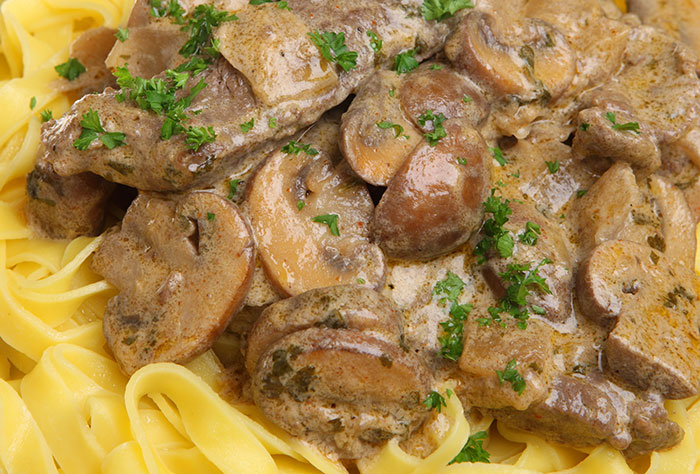 I make soups and stews in my slow cooker all the time. My Slow Cooker Loaded Potato Soup is a WINNER! Load it up baby!
On the lighter side, try my Southwest Chicken Stew! It's super tasty, and nice and healthy too!
Slow cookers aren't just for dinner! You can make delicious dips in them, like my Slow Cooker Buffalo Chicken Dip! It's perfect for the big game!
You can even make breakfast in your slow cooker. Throw together my Slow Cooker Apple Oatmeal before you go to bed and wake up to a delicious breakfast! Not to mention your house will smell amazing!
So this spring and summer too, why not give that slow cooker a workout? I have a whole chapter of slow cooker recipes in each of my 2 cookbooks. Click Amy's Cookbooks for more information. Click Slow Cooker to see a bunch of free slow cooker recipes here on my website. I'm always working on new ones so check back soon!