Death By Chocolate Cupcakes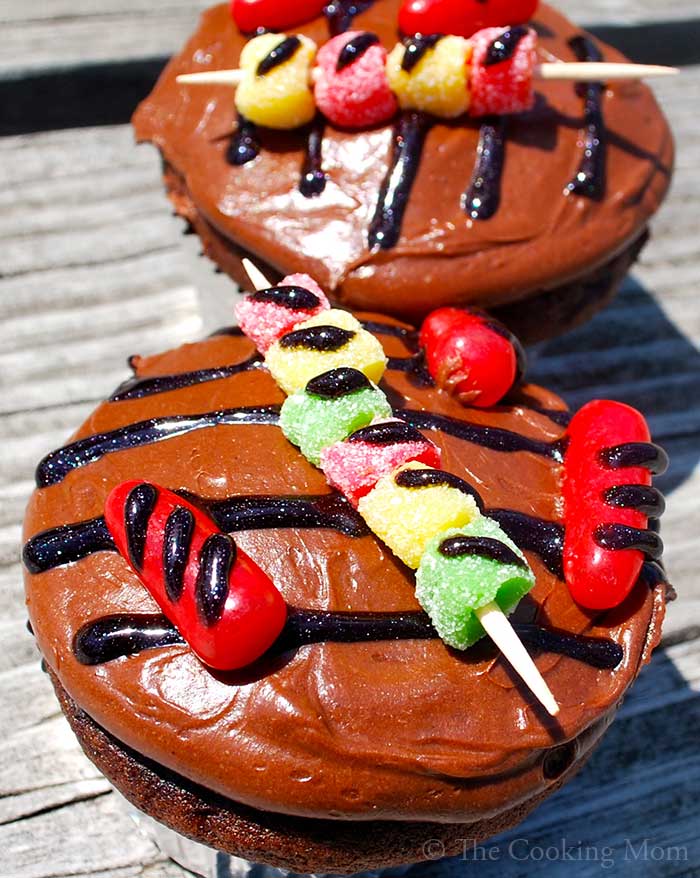 Ingredients:
1 box (18.25 ounces) devil's food cake mix
1 box (2.4 ounces) instant chocolate pudding mix
1 cup sour cream
3/4 cup vegetable oil
4 eggs
1/2 cup water
1 cup semi-sweet chocolate chips
Chocolate Buttercream Frosting or 1 can chocolate frosting
Directions:
Preheat oven to 350 degrees. In a large bowl, use a mixer to beat together the first 6 ingredients together until smooth. Stir in chocolate chips. Line muffin tins with cupcake liners. Scoop batter into muffin cups about 2/3 full. Bake for 18 to 22 minutes. Remove from oven and let cool completely. Frost cupcakes. Makes about 24 cupcakes.
Note:
For summer grilling cupcakes, frost cupcakes with my Chocolate Buttercream Frosting. Use a piping bag with black colored icing to pipe on grill grates. Thread toothpicks with small pieces of colored gumdrops or sour straws to look like kabobs. Use Mike and Ike candies to look like hot dogs. So cute for summer cookouts!
For graduation parties, frost cupcakes with my Buttercream Frosting. Then top each cupcake with an unwrapped mini peanut butter cup. Use melted chocolate chips to "glue" an unwrapped Ghirardelli chocolate square (I love the salted caramel ones) on top on the peanut butter cup. Then, once again used a bit of the melted chocolate to secure a mini M & M on top of the chocolate square. Use licorice or another thin strip candy (I used Rips) to make it look like the graduation cap and tassel.