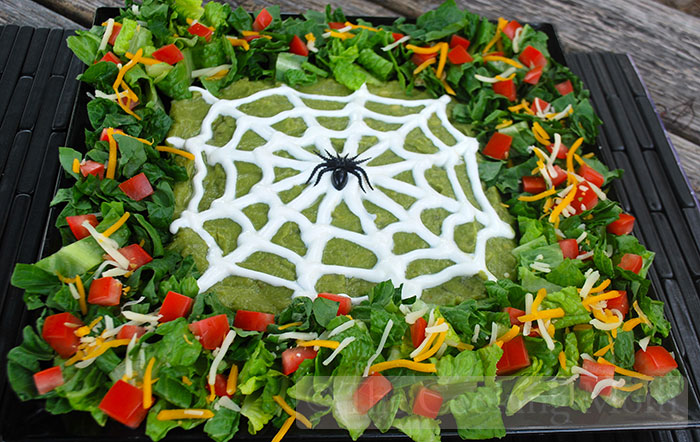 Ingredients:
1 can (15 ounces) refried beans
1 envelope (1 1/4 ounce) taco seasoning
2 tablespoons warm water
2 to 3 cups guacamole
1 cup sour cream
1 to 2 cups shredded Mexican Blend cheese
4 cups shredded Romaine lettuce
1 to 2 cups seeded and diced tomatoes
2 to 4 chopped scallions (optional)
1 small can sliced black olives (optional)
1 plastic spider
A couple large bags of tortilla chips
Directions:
In a small mixing bowl, stir together the refried beans, taco seasoning and water. Mix well.
On a large square plate or tray spread out the beans in an even circular shape. Leave room around the edges for the lettuce and toppings.
Carefully spread guacamole over the top.
Place sour cream in a quart or gallon size ziploc bag. Cut the corner off. Squeeze sour cream on top of guacamole in several concentric circles or in octagon shapes. You can either use ziploc bag to pipe on the rest of the sour cream to form web or you can use a knife and run lines lightly through the sour cream circles to make the web shape.
Sprinkle lettuce in a circle around bean dip. Sprinkle cheese, tomatoes, scallions, and olives on top of lettuce.
Place a creepy spider on the web. Serve with tortilla chips for dipping.
Notes:
So fun for Halloween! Your goblins will gobble it right up!