Fun with Fondue in the Twin Cities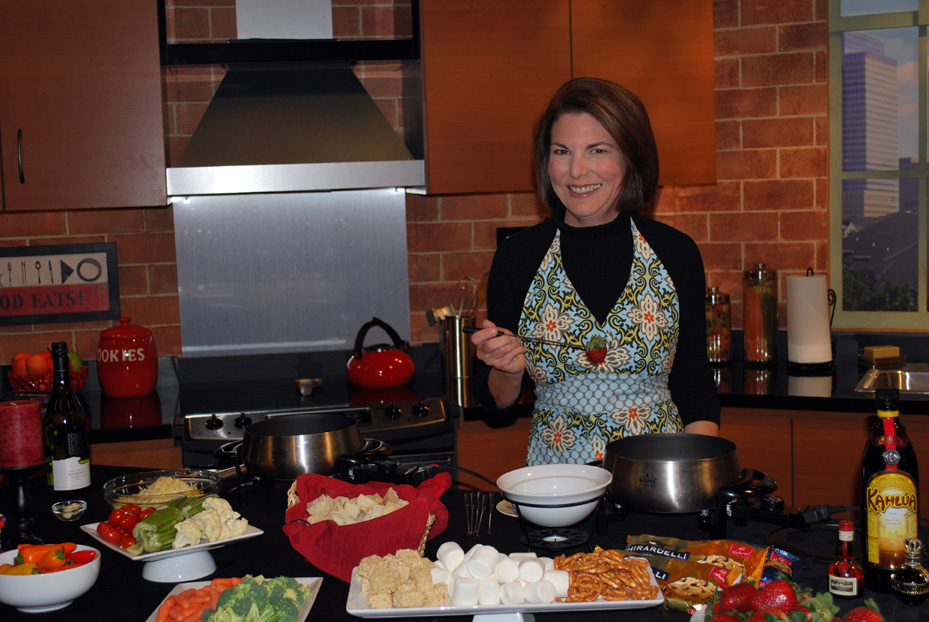 This is the perfect time of year to do fondue! It's such an easy way to entertain. You just set everything out and let your guests do the cooking. Love that! My grandmother was known for her fondue parties. Every winter she had a big cross country ski party. After a day out in the cold skiing we'd all come home to a roaring fire and pots of simmering fondue. That's my kind of party! What memories. When she passed away, I inherited her fondue pots. I want to pass on those memories too! So, we do fondue a lot!
I was on TV in the Twin Cities this week having fun with fondue. They loved my classic Swiss Fondue with Gruyere cheese, garlic, and wine. I love to dunk crusty French bread and fresh veggies in it. Wow! It's so good! My Chocolate Fondue is heavenly! Just 3 ingredients. It doesn't get much easier than that! Serve this bowl of warm melted chocolate goodness with fresh strawberries, other assorted fruit, marshmallows, pretzels, and rice crispie treats (the kids fave) for dippers and watch everybody light up! Talk about a "WOW" factor! Cut the recipe in half and you have the perfect amount for a date night dessert. How romantic! So come on! Why not do fondue? Have you ever done it before? If so, do you have any food fondue recipes? If so, please share!