Bread Pudding with Bourbon Sauce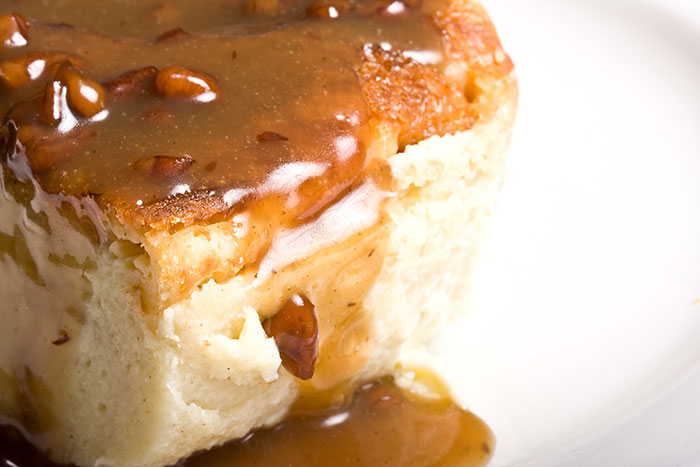 Ingredients:
4 large eggs
1 1/2 cups white granulated sugar
4 cups half and half
1 tablespoon vanilla extract
1 teaspoon ground cinnamon
1 (1 pound) loaf day-old French bread, torn into 1-inch chunks
Bourbon Sauce:
2 cups brown sugar
1/2 cup butter
1 1/2 cups heavy cream
1 1/2 cups chopped pecans (optional)
2 to 3 tablespoons Bourbon
Pinch salt
Directions:
In a mixing bowl, whisk together the eggs and sugar until light and creamy. Add the half and half, vanilla, and cinnamon. Whisk thoroughly until combined.
Place the bread in a 9 x 13 baking dish that has been sprayed with cooking spray. Cover with the custard mixture. Use your clean hands to mix custard and bread together. Let still out for 30 minutes to allow the bread to soak up the custard. You can also make a few hours ahead and cover and refrigerate until you're ready to bake.
Preheat oven to 325 degrees.
Bake about 40 minutes, or until the custard is set and the top is golden. Let cool for about 5 to 10 minutes. Best served warm with warm Bourbon Sauce on top.
Bourbon Sauce Directions:
Melt butter and brown sugar over low heat until sugar is melted. Gradually add cream and heat and stir until sugar is dissolved and mixture has boiled 1 minute. Remove from heat. Stir in salt, bourbon and pecans if using. Serve warm over bread pudding. Sauce can be made ahead and reheated.