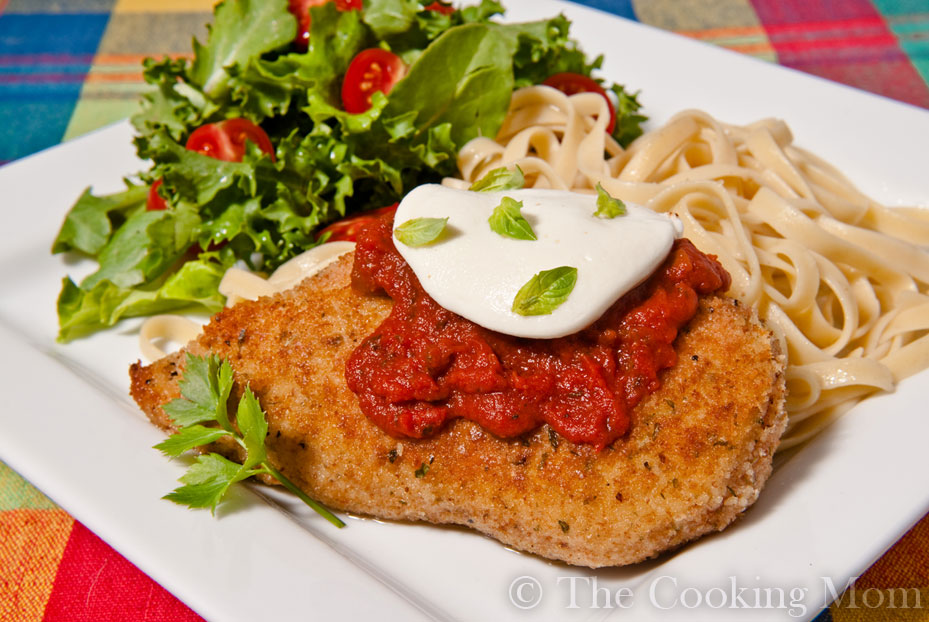 Ingredients:
4 boneless, skinless chicken breasts
Salt and pepper
1 egg
1/2 cup milk
3/4 cup seasoned Italian breadcrumbs
1/4 cup grated Parmesan cheese
2 to 3 tablespoons olive oil
2 cups marinara sauce
4 to 8 slices fresh mozzarella cheese or 1 cup shredded mozzarella cheese
2 leaves fresh basil (optional)
Directions:
Lightly pound the chicken breasts between two pieces of plastic wrap. Season the chicken breasts with a little salt and pepper. Beat the egg with the milk in a shallow dish. In another shallow dish, mix the grated Parmesan with the breadcrumbs. Dip each chicken breast in the egg mixture and then coat them in the breadcrumbs on both sides. Heat the oil in a large heavy skillet and fry each chicken breast on both sides until golden brown and cooked through. Top each piece of chicken with some marinara sauce and cheese. Cover skillet and cook a few minutes until cheese is melted. Top with fresh basil if you like. Great served with hot cooked pasta.