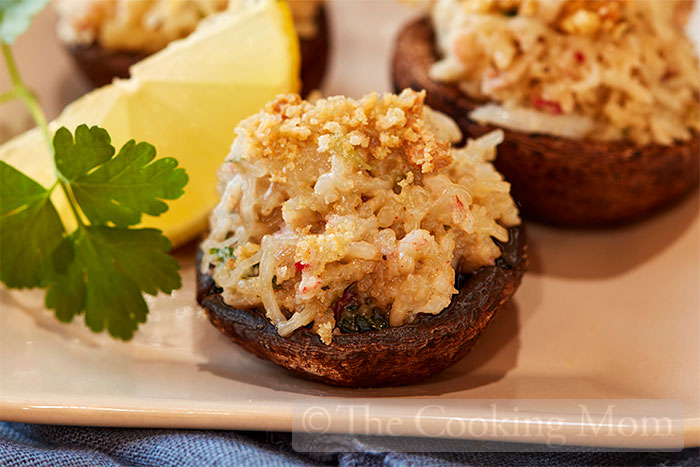 How To Make Crab Stuffed Mushrooms
The holidays will be here before you know it. Now is a great time to starting thinking about what you are going to serve this year. I love to really look like a rock star during the holidays. It's so to fun make something different and really special for your family and friends. I'm not saying you shouldn't make your family's favorites. I'd be in the dog house if I didn't make ours, but I'm saying why not try something new this holiday season? We LOVE appetizers in our house! You know the pre-dinner snacks and nibbles. These mushrooms would be perfect for a Thanksgiving appetizer. In fact, on New Year's Eve and sometimes Christmas Eve, too, we do all appetizers. LOVE THAT! I set them all out on the kitchen island and let everybody munch all night long. Now, that's a good party!
I've got THE ULTIMATE appetizer for the holidays. It's my Crab Stuffed Mushrooms. They seem very indulgent and fancy but they are actually pretty simple to make! They are also a great way to serve seafood at your holiday parties on a budget. They will look so pretty on your holiday buffet! You just gotta make these! If you want to skip to the complete printable recipe, click Crab Stuffed Mushrooms.
I love this recipe because it's different from the rest. Unlike a lot of seafood stuffed mushroom recipes, you can really taste the crab in every bite. There's not a lot of filler. Just crab and a few other things like my secret ingredient Tony Chachere's Original Creole Seasoning make them so special.
I'm teaming up with Tony Chachere's to help get the word out about how this creole seasoning needs to be a pantry staple in your kitchen. It's my go-to when I need to kick up the flavor in a lot of my recipes. It's delicious on chicken, turkey, burgers and it's a must with seafood!
So, throw on an apron and let's get cooking.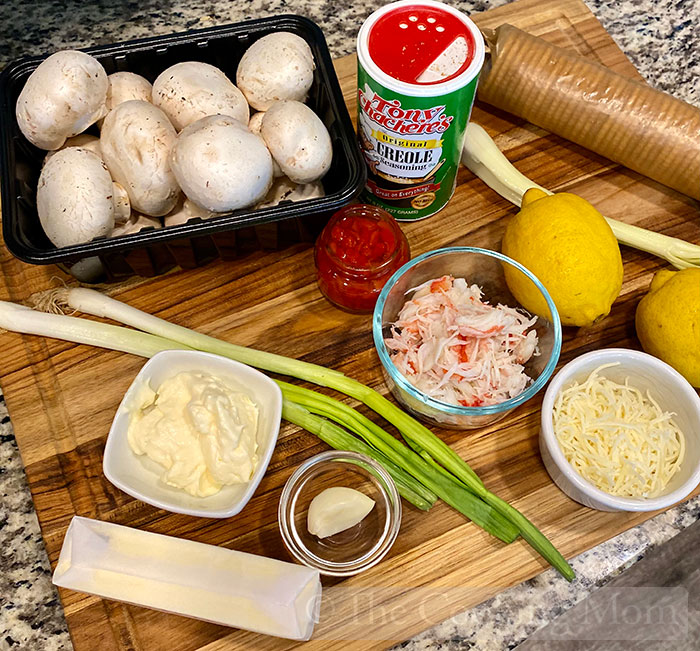 Start with cleaning one big container (16 ounces) of medium to large size whole white button or baby bella mushrooms, which are also called crimini mushrooms. Just make sure they aren't small mushrooms because they will shrink and be too small after baking. The best way to to clean them is by wiping them down well with a damp clean towel or paper towel. Then, remove the entire stem leaving a hole to stuff the mushrooms.
Now on to the filling. Finely dice about 3 tablespoons each of celery and green onions.
Then, if using fresh garlic, use a garlic press or knife to mince one clove. You can also use one teaspoon of minced garlic from a jar. Melt 3 tablespoons of butter in a small skillet. Over low to medium heat carefully sauté the celery and green onions for a couple minutes or until they just start to get a little soft. Add the minced garlic and cook for just another 30 seconds stirring often so you don't burn it. Turn off the burner and let the veggie mixture cool down.
Next, line a rimmed large baking sheet with foil or parchment paper. Spray it with cooking spray. Lining your baking sheet makes clean up a breeze. Spread out the mushroom caps on the baking sheet.
Now, back to the filling. The star of the show besides the mushrooms is the crab. You'll need 8 to 10 ounces of crab meat. Sometimes during the holidays you can find fresh crab legs on sale. Fresh is always best! Crab legs are already cooked so no need to worry about that. I use kitchen shears to cut through the crab legs and the meat comes out pretty easily. Be careful to remove any shells from the crabmeat. You can also use crab meat from a container. I like to use premium lump crab meat which is usually refrigerated and found near the fresh seafood. You can use canned crabmeat or even artificial crab in this recipe. If using crab meat from a can or container drain well!
In a bowl, add the crabmeat. Squeeze a little fresh lemon juice over the top of it. Toss to coat.
Next, add the cooled veggie mixture and any butter in that is left in the skillet.
Then it's time for my secret ingredient that really makes these sing, my favorite Tony Chachere's Original Creole Seasoning. I add one and and a half teaspoons. Just enough to give the filling some great favor without overpowering it.
Now add 3 tablespoons of real mayonnaise, 2 teaspoons of diced pimentos (which have been drained) and 1/2 cup shredded Swiss cheese. Gently mix it all together being careful to not break up that beautiful crabmeat. If the mixture seems a bit dry go ahead and another tablespoon of mayonnaise.
Separately, crush up your favorite buttery crackers for the topping. I put them in a re-sealable bag and crush them by hand or with a rolling pin or the flat side of a meat mallet. This is fun for the kids to help with. Mine love to crush stuff! LOL!
Now melt the remaining two tablespoons of butter. In another bowl, gently toss the cracker crumbs with the butter.
It's time to get stuffin'. Use a spoon to fill each of the mushroom caps with some of the stuffing. Don't over stuff them and don't pack the filling down too much. Next, sprinkle a little of the the remaining shredded Swiss cheese on top of each mushroom. Finally, spoon a little of the buttery cracker crumb mixture on top of each.
Bake in a pre-heated 375 degree oven for 12 to 18 minutes or until mushrooms are cooked, the filling is hot and the tops are golden. I like to serve these warm out of the oven with some fresh parsley as a garnish and fresh lemon wedges to squeeze on top.
Serve these beauties before Thanksgiving dinner or at your holiday get together and they will be a huge hit! Click Crab Stuffed Mushrooms for my complete printable recipe. Happy Holidays!
Ingredients:
16 ounces medium to large mushrooms
5 tablespoons butter, divided
3 tablespoons finely diced celery
3 tablespoons finely diced green onions
1 teaspoon minced garlic
8 to 10 ounces lump crab meat
Juice from half a small lemon
1 teaspoon Tony Chachere's Original Creole Seasoning
3 to 4 tablespoons real mayonnaise
2 teaspoons pimiento, drained well (optional)
1 cup shredded Swiss cheese, divided
1/2 cup crushed buttery crackers
Lemon wedges
Fresh parsley
Directions:
Preheat oven to 375 degrees. Line a baking sheet with foil and spray with cooking spray
Melt 3 tablespoons butter in a skillet over low to medium heat. Add celery and onion and sauté on low heat for a couple minutes or until the veggies just start to get soft. Add garlic. Cook another 30 seconds. Set aside to cool.
Arrange mushrooms on baking sheet lined with foil or parchment paper.
In a bowl add crab meat. Squeeze a little fresh lemon juice over the top of it. Add cooled veggies and butter mixture, Tony Chachere's Original Creole Seasoning, mayonnaise, pimientos, and 1/2 cup shredded Swiss cheese.
Stuff each mushroom cap with the crab mixture.
Melt remaining 2 tablespoons butter. Place crushed crackers in a bowl and add melted butter. Gently mix. Sprinkle the remaining Swiss cheese over each mushroom cap. Next, sprinkle a little of the buttery cracker mixture on top of each mushroom.
Bake for 12 to 18 minutes or until golden.
Serve immediately on a platter with fresh lemon wedges and garnish with parsley.
Prep Time: 20 minutes
Cook Time: 15 minutes
Serves: 6 to 8