Trip to Beautiful Bayfield!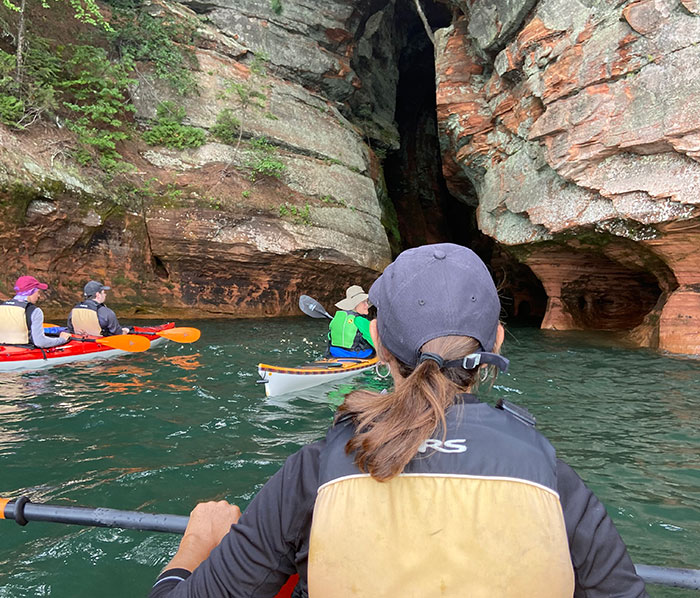 It's been on my bucket list. I've always wanted to visit Bayfield, Wisconsin.
It's at the northern tip of Wisconsin on the shores of Lake Superior and it's the main gateway to the Apostle Islands. I grew up sailing on Lake Michigan and I had always heard Bayfield was a sailor's delight!
Before summer sailed away, I wanted to take my kiddos on a special getaway. It was my son Riley's birthday. I really wanted this to be a trip Riley and Ireland would never forget. I'm pretty sure they won't!
Bayfield, is the cutest little town. We rented a condo right downtown across from the water. We grilled nightly and ate dinner outside overlooking the harbor watching the sailboats.
The highlight of our trip was a day-long kayak tour of the Apostle Islands. We got up early in the morning and drove out to a beach to meet our guide Leann from Whitecap Kayak.
She and our apprentice guide Trista got us all geared up and away we went. We lucked out. It was a gorgeous day! It was my first time kayaking on Lake Superior. It was my son Riley's first time kayaking ever. Plus, it was his birthday!
The Apostle Islands are 22 islands filled with beaches and cliffs, and the most amazing <a href="https://www.nps.gov/apis/index.htm">sea caves</a>. I've never seen anything like it! We kayaked inside some of these sea caves and it was incredible!
Half way through the trip, we stopped at a beach. Leann had prepared a fabulous lunch with all sorts of delicious fresh produce from her garden. Homemade hummus, a white bean and kale salad, and for dessert freshly picked blueberries and pineapple tossed with herbs. It was so delicious! Time to turn around and kayak back.
We kayaked through more sea caves and we saw lots of ducks and birds and even bald eagles!
At one point Leann paddled up close to shore where there were some people gathered on the beach. She secretly asked them all to yell out Happy Birthday to my Riley. What a cool, unexpected surprise. It brought me to tears! Just magic!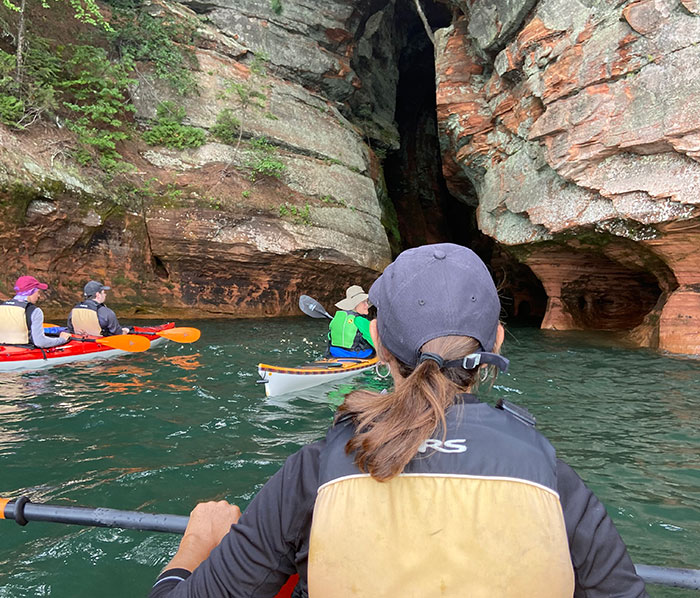 Speaking of surprises, Saturday morning we woke up to a small farmer's market right outside our door on the main street downtown. I LOVE a good farmer's market! I loaded up with fresh veggies and fruit, and even bread and cookies for the drive home.
We only had a few days, so it wasn't near enough time to do all we wanted to do. But, I know one thing. I'll be back to beautiful Bayfield! I can't wait!